Wild Flight Farm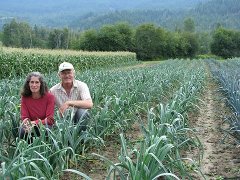 In 1993, Hermann and Louise Bruns began growing vegetables on a 20-acre piece of land along the Shuswap River in Mara. Starting with a former hay field and no buildings, we have slowly grown to the point where we now have a large packing shed, temperature-controlled storage rooms for various crops, and greenhouses for seedling production and season extension. The farm crew includes seven full-time employees during the growing season and four employees during winter. Along with a full range of certified organic market vegetables, we also grow raspberries and strawberries. Our nutrient-rich, clay-loam soil is well suited to cruciferous crops like cabbage, kale and broccoli, and for producing large and robust leafy greens like lettuce and spinach.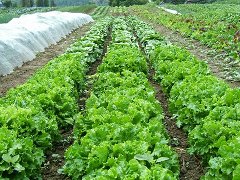 A flock of approximately 100 laying hens provides our customers with certified organic eggs. One of our main missions has been to provide local food year-round as much as possible and to encourage a seasonal diet. The poly-tunnel greenhouses in which we grow frost-hardy salads, our winter storage facilities, and the development of our winter markets have enabled us to progress towards this goal.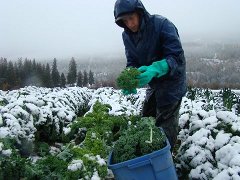 Our produce is sold at farmer's markets in Salmon Arm and Revelstoke weekly from May to October and bi-weekly during the winter months. We are also pleased to be able work with other growers in our area to supply Urban Harvest with regular deliveries of produce. We would enjoy meeting some Urban Harvest customers, so if you ever have the opportunity during your travels, we hope you'll stop by the farm or one of our markets and say hello! Dates, times and places for our markets can be found on our website at www.wildflightfarm.ca.