About Us
Urban Harvest was started in January of 2000 by Lisa McIntosh and David Nelson, with the goal of connecting local growers and local eaters! We work hard to make the choice to eat organic both convenient and affordable for our customers in the Central Okanagan area, and through our weekly Saturday Sale, Harvest Herald newsletters, social media, and community involvement, we aim to contribute to a local food culture that celebrates healthy, joyful eating.
We are also deeply committed to being part of a more sustainable food system, and as such, we work closely with Okanagan farmers to ensure that we are able to buy as much of our produce as possible locally, reducing the distance from field to table. We support a number of local organizations with weekly food donations, and leftover produce that cannot be sold is offered up in our "free bins" at each week's Saturday Sale. We also pass on lots of veg culls and scraps to local bunnies and chickens!
Meet The Urban Harvest Team!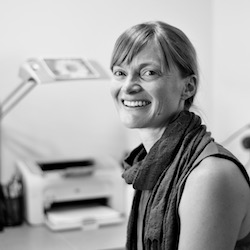 Lisa manages Urban Harvest from her home office, taking care of the business administration, marketing and community outreach (website, newsletter, community events, community donations, etc), customer support (together with Kelly and Carol), planning and purchasing of food orders (including season planning with local farmers), bookkeeping (again, with Kelly and Carol), and payroll. She also works with the warehouse team, filling in as needed on deliveries, packing, picking up or receiving orders from farmers, etc. She occasionally covers for staff at the Urban Harvest Saturday Sale as well, and loves the opportunity to meet customers face-to-face! Lisa's interest in organic food goes back to university days when she studied and volunteered with various food-related community economic development projects such as farmers' markets, community kitchens, community gardens, and organic farms. She loves hiking, singing, language(s), dance, learning, family, nature, and all things community!
Michael started with Urban Harvest in September of 2005 – now THAT'S dedication! Since that time, he has worked his way through the UBCO education program while continuing to work at Urban Harvest, and has more recently completed his Master's degree as well. A teacher on call during the week, he makes his weekly appearance at the Urban Harvest Saturday Sale, and keeps us all up-to-date on culture and music! Having a little extra time off during the summer, Mike does a fantastic job of covering summer vacation time for other employees – a perfect fit! With a family history in both farming and the grocery industry, Urban Harvest's mandate of sustainability and high quality organic produce appeals to his strong ethical and gastronomic convictions. Lucky for us!
Cheryl has been making things beautiful at Urban Harvest since February of 2008…another knowledge-keeper at Urban Harvest! She brings a deep passion for the planet, a truly kind heart, and an uncanny knack of adding beauty to everything she touches…not to mention an impressive work stamina! Cheryl is a key part of our warehouse team, packing and checking your Harvest Boxes, to ensure that they meet high quality and accuracy standards. She also assists with warehouse management, bin washing, and our weekly Saturday Sales (if you are a Saturday Sale shopper, you may have seen Cheryl's smiling face there)! And if you've been a Kelowna resident for more than a few years, you may also remember Cheryl from her former downtown juice bar/café, Urban Oasis, which she owned and operated from 1996-2001. Apart from being a wonderful cook (food artist, really!), gardener, and kundalini yogi, Cheryl is also a very dedicated mom to her daughter Emily and her (much) older son Tyler!
Jess joined the Urban Harvest team in the spring of 2011, after having been an Urban Harvest customer for some time. Artistic and creative, she often finds inspiration while helping to process the colorful produce and pack the bins for the delivery customers during the week. She is the creator of the beautiful Spring-Summer-Fall moving mural in our store and we are thrilled to see her taking her amazing artistic skills to new places, having reduced her UH work week to make room for developing her art business! Jessica has a fantastic sense of humor and a lot of passion for the things she enjoys, be it sewing, painting, gaming or throwing elaborate themed events that are designed to bring together her friends!
Sam started as an Urban Harvest customer as well, in November of 2011. Having always been passionate about food, learning more about where all the delicious, local, fresh fruits and vegetables available to her through Urban Harvest was an opportunity not to pass up! She started as a bin washer with Urban Harvest, and is now one of our key packers and part of the Saturday Sale team. Sam trained at the Okanagan College in the Culinary Arts and hosts frequent dinner parties where she is always eager to use the skills she learned there to transform the bountiful harvest into meals to be shared with others. If you don't know what something is or don't know how to use it, you can always feel free to ask her for some advice at the Saturday Sale! In her spare time, Sam dabbles in various creative endeavors like art and writing, spends plenty of time gaming, enthuses about animals (especially her own fluffy cat,) and is always thinking of the next new thing on the menu.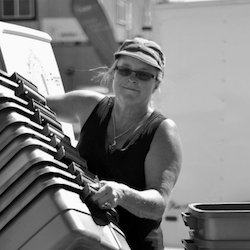 Carol began working with Urban Harvest in September of 2013, and has been packing and delivering orders since that time, along with some time spent assisting in the office. She currently packs and delivers on Tues, Wed, and Thurs, in our mini cargo van. Carol loves to drive, to work with the good products of the land for Urban Harvest, and to be part of this great team bringing good food to good people. Having grown up in Saskatchewan, she learned early to care about the farmers, and what they needed…as it was always a topic of conversation even in the city. Carol moved here in 2002 with her then 3 year old daughter, having lived in Langley before that for 27 years. Awareness and concern for food, farming and health are main drivers for Carol. She is dedicated to community activating work supporting that realm in Kelowna, in such things as the World Community Film Festival held each March here at the College and a member of the BC Food Systems Network. Carol enjoys music (singing and dancing) and music festivals each summer, camping and travelling whenever possible, being a mom, attending conferences, cooking and sharing food with family and friends, hiking and water activities, her partner Robin, and her two dogs and cat, along with being a lifelong learner!
Dan joined the Urban Harvest team in January of 2014 and assists with packing orders and delivery, as well as picking up and receiving orders, and warehouse management. Originally from Saskatchewan, he left to experience more of the country from Prince Edward Island to Vancouver Island working in scratch bakeries, sea food fishing/restaurants. He moved to Kelowna in 2006 and, with an interest in health and nutrition, started working for various natural food and supplement retailers, a path which eventually led to an interest in food production. At Summerhill Winery Bistro garden, vineyard and cellar he worked for a few seasons tending to the crops and wine and also helped establish Pine Ridge Farms on the side. In 2011, he worked with Curtis Stone of Green City Acres, learning about small plot intensive farming, helping to grow the business and build relationships with other farmers, CSA/market customers and chefs. Over the years, he's assisted Forbes Family Farm, Morning Dove Gardens, and Sunshine Farms with projects, and maintains a good rapport with the farming community and its supporters. In his spare time, Dan enjoys bicycling, hiking, foraging for wild plants and mushrooms, eating poutine and befriending cats.
Kelly joined the Urban Harvest team in May 2015, where she works in the office on administration, customer support, and bookkeeping. You might have met her at the Organic Okanagan Festival at Summerhill Winery, where she has run the Urban Harvest booth for the last three years. She grew up in Calgary and after finishing her degree at the University of Calgary, she moved to Kelowna. Kelly lived in Vancouver for five years, working closely with ecosystem biologists at Environment Canada, mostly designing maps and graphs for international reports on biodiversity. She continues to work as a graphic designer independently, with some former EC colleagues. She loves dogs and runs a small business dog-walking and pet-sitting. Kelly spent nine years singing in a touring band, now she just sings karaoke. She spends her spare time biking, swimming, reading, camping, and tinkering on her VW Westfalia.
Michael joined the Urban Harvest team in January of 2018 and assists with packing orders and delivery, as well as picking up and receiving orders. Originally from Saskatchewan, he has lived in southern France, Edmonton, northern Quebec and now Kelowna! Michael has worked in various positions but his main passion, other than organic food, is music! Michael won the Okanagan Singer-Songwriter competition in 2017 and since then has performed over 35 shows and recorded a 6-song album with an accompanying professional video. Michael loves skiing, bicycling and traveling around our beautiful province. He also once had tea with Prince Edward of England.
Riley helps out during the saturday sale, and washes delivery bins. His family ordered bins from Urban Harvest all the time when he was a little kid, and now he is able to see the inner workings of his childhood memories. Urban Harvest is Riley's first job and he intends to stay as long as possible. Riley currently goes to Kelowna Secondary School, and wishes to pursue a career in the music or business industry. His hobbies include drumming, producing sounds for his theatre production class, making music with friends, and hanging out with friends or family over a cup of coffee.