Notch Hill Organics
Notch Hill Organics (formerly Sudoa Farm) has operated for over 25 years, first in Mission B.C. and, since 1996, in Notch Hill B.C. (just outside Sorrento). The farm is certified organic by the North Okanagan Organic Assn. and consists of 126 acres of mixed land where we grow hay and raise a few cattle. Our vegetables are grown on 10-15 acres of our beautiful deep bottom soil.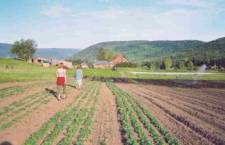 We sell a full line of vegetables at the Sorrento, East Vancouver and Our farm family has grown over the past few years and now includes myself, my son Dan, his partner Steph and their children Ada and Malachi. Each year we are joined by 4 or 5 interns who live, learn and work here and, hopefully, will be the farmers of tomorrow.
Our 'season' starts March 1st with growing our own vegetable starts and bedding plants. The fields are prepared and planted as the weather allows and we sell plants and vegetables at the Sorrento and Chase Farmers Markets starting in May. As well as supplying you through our favourite customer, Urban Harvest, we distribute to restaurants throughout B.C. via BioVia, a Vancouver wholesaler.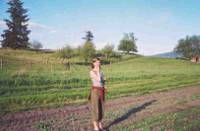 Lisa and David worked with us through the WWOOF (willing workers on organic farms) volunteer programme and over the years we have become friends. Our mutual commitment to sustainable organic agriculture and providingquality local food gives Notch Hill Organics the security to keep growing and Urban Harvest a dedicated supplier.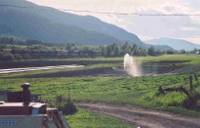 Seed growing has become a small but integral part of our operation, not only to supply some of our own needs and that of Stellar Seeds here in Sorrento, but to learn and share this skill and keep heritage varieties available.
I have been growing organically for over 30 years. Originally an avid gardener from London, England my hobby seems to have grown with me, and, with the help of Mother Nature and my family, I look forward to many future harvests to share with you.
Sue Moore