Moses Brown/Shirlee Mae Schneider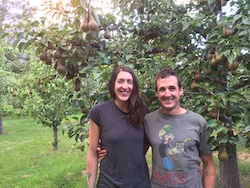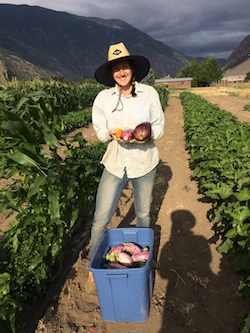 Our farm is located in the Similkameen Valley, in Cawston B.C. It is a small scale seven acre family run farm. We have owned and farmed it organically since 1990. We were SOOPA certified until 2009 but switched to Pacs in 2009 so we could ship out of Province if needed.
The farm was part of the original Cawston homestead, we purchased it from the Pitt family. We still grow wonderful pears from the 50 year old d'Anjou and Bosc trees planted by the Pitt family. We have tried to preserve the original farm set up, inter-planting Bronze Beauty Bosc and Bosc in the (30' by 30' spaced) D'Anjou block. We also grow apricots, a variety of apples, plums, peaches, and gardens all mixed in amongst the old corrals, cottonwoods and lilacs.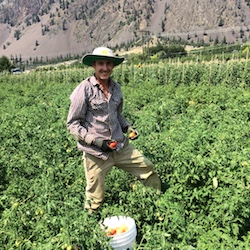 Our son Willis, works on the farm and leases a neighboring property to grow squash, making him a fourth generation farmer in the Similkameen. In the winters he travels, and rock and ice climbs. Our other son Max attends Emily Carr in Vancouver, tree plants and always helps on the farm when he is home. We are lucky to live in the beautiful Similkameen Valley and a neighborhood where most of our neighbors are also farming organically.