Brown Schneider Farm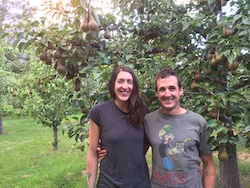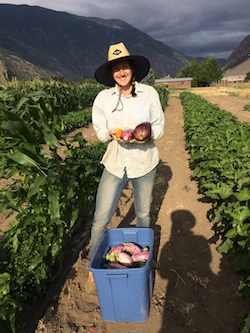 We are a certified organic, small scale, family farm in Cawston, B.C. Owned by Shirlee mae Schneider and Moses Brown, and operated with their son Willis and his wife Bronwyn, we have been farming in the Similkameen Valley for four generations. Currently we are working together as three of those generations, leasing land for our various ground crops from Willis's Grandpa. A tractor is never broken long at Grandpa's place.
We grow a diversity of crops, because in organic farming diversity is key to the sustainability of the farm. It allows us to spread our intense labour periods over the whole growing season, and work together as a family to do much of that labour ourselves, with some extra help from good friends. Growing many crops and rotating them also impacts the land more lightly, which then demands less intensive management from us, and produces healthier and more productive soil.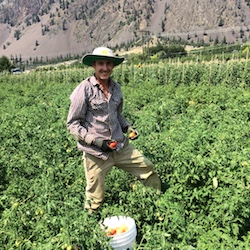 We grow a variety of pears, inter-planting Bronze Beauty Bosc and Bosc in an old 30' by 30' spaced D'Anjou orchard. We also grow apricots, apples, plums, peaches, and gardens all mixed in amongst the cottonwoods and lilacs. Our main ground crops are tomatoes and squash, but we grow peppers, melons, eggplants, beans, carrots, garlic, and many other things that do well in the Similkameen Valley. Our farm plan is guided by what we like to eat, what people like to buy, and what we have time to do.