Kettle River Farm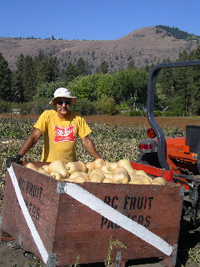 Kettle River Farm is a 13 1/2-acre certified organic farm nestled on the banks of the Kettle River in Grand Forks. Since 2000, Owen Broad and Nancy Gabrielse have been growing a variety of fruits and vegetables including squash, onions, corn, carrots, beets, greens, apples, pears, plums, melons, apricots, currants, berries and more. We have been supplying Urban Harvest with organic squash and onions since 2003.
At Kettle River Farm we are committed to using organic farming practices not only to grow delicious healthy food but also to do our part in being responsible stewards of the land and water. The Kettle River infuses our whole farm, giving us rich river- bottom soil, replenishing the aquifer and nurturing all sorts of wildlife including beaver, herons, kingfishers, eagles, owls and rainbow trout. It is also a beautiful welcoming place to cool off after a day in the field. We have left several acres of Ponderosa Pine forest in its natural state along the river.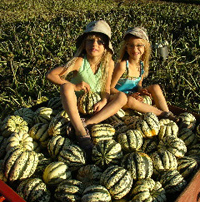 We are lucky to have three wonderful helpers on our farm; Liam, Clare and Ivy who have learned from the dirt up what goes into each crop, namely lots of love, labour and time. In return we all enjoy high quality fresh fruit and vegetables and are fortunate to be able to sell our produce locally, reducing the environmental impact of transportation.