West Enderby Farm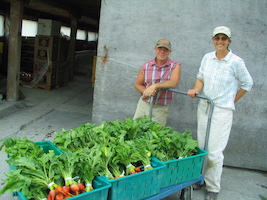 We have been farming on heavy rich valley soil just outside Enderby since 2011. We started small with the aim of scaling up to supply regional retailers with the kind of vegetables we would like to buy from stores (if we weren't growing them ourselves!).

We grow lots of carrots, which we store for sale during the winter, as well as beets, onions, cabbage, cauliflower, sunchokes, and a variety of other crops.

We both have a long-time commitment to certified organic farming. The farm is a patchwork of fields, ditches, and wet grassland that we share with many other animals. In particular, farming just wouldn't be the same without the birds around us. We watch the young fly-catchers and swallows fledge with similar relief to watching our crops emerge and mature!
We rely on a small team of enthusiastic, skilled seasonal staff to help us get everything done, - our crew working hard in the fields in 2018, for example, were a teaching assistant, nurse, and ski-lift operator.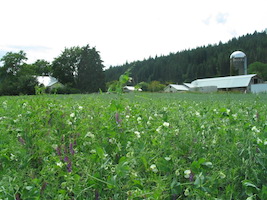 A fertility building crop of oats, peas and vetch, left to return to the soil, precedes many of our plantings.