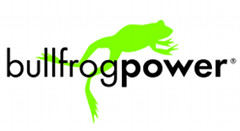 Urban Harvest is bullfrogpowered® with 100% green electricity.
This means Bullfrog Power's generators inject clean, renewable electricity onto the grid to match the amount of power Urban Harvest uses. Across Canada, Bullfrog's green electricity comes exclusively from wind and hydro facilities that have been certified as low impact by Environment Canada under its EcoLogoM program. For Bullfrog's B.C. customers, Bullfrog sources 100% made-in-B.C. wind power.
By choosing 100% B.C. wind power with Bullfrog Power, we are reducing our environmental impact, supporting the development of renewable generation in Canada, and creating a cleaner world for today and tomorrow.
We invite you to visit the Bullfrog Power website at www.bullfrogpower.com for more information. Bullfrog offers both homes and businesses 100% green energy solutions.