Celeriac (aka Celery Root) - soups, stews, mashes, and more!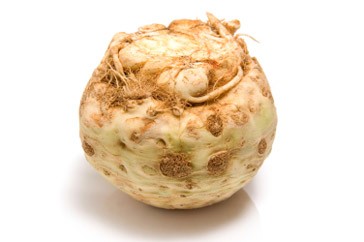 Celeriac is a root vegetable that tastes of both celery and potato, and something deeper and more earthy as well. It's lovely and lively in soups, stews, roasted with other root veggies, or lightly boiled and then julienned and chilled and served with a tangy dressing, like a coleslaw.
Oh, and it looks a bit like a brain! But don't let that deter y ou!
Celeriac also makes a wonderful soup (check our recipe archive or google) or you can steam and mash it with potatoes for a delightful mashed potato-celeriac puree (add a bit of whipped cream, roasted garlic, and some blue cheese to take your puree to the next level!).