Micro-Greens, Power-Packed Pea Shoots (non-org)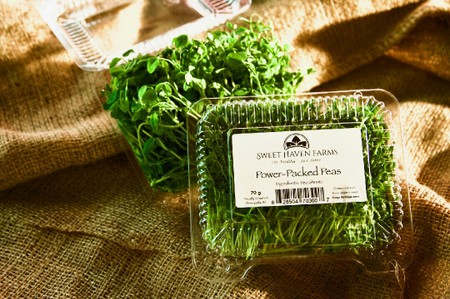 Sweet Haven Farms produces vibrant micro-greens naturally, without the use of chemical pesticides or herbicides, using certified organic seeds and an organic soil medium.
Micro-greens are tender young shoots, grown in soil and harvested for the stem and uppermost part of the plant, just before the "true leaves" appear. They are power-packed, nutrient-dense foods, with high levels of vitamins, protein, and antioxidants.
The Power-Packed Pea shoots are micro-greens grown from pea seeds, as you might guess!
Enjoy your pea shoots in salads, sandwiches, wraps, smoothies/juices, or as an edible garnish to enhance your plates!
Store refrigerated; wash before use.