Celeriac (Celery Root) - click for ideas!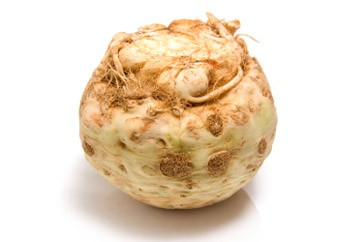 We posted a Facebook challenge to find out people's favourite ways to use celeriac. Wow, did we get a
lot of replies!
Here are a sampling of 10 ideas to tempt your tastebuds!
1) Vegetarian Alfredo with celeriac spears, garlic, mushrooms, and onions over pasta.
2) Mashed celeriac with potatoes, garlic, cream cheese, and milk.
3) Sliced + roasted celeriac, used as lasagna noodles!,
4) Grated celeriac, added to a slaw.
5) Roasted parsnip and celeriac curry coconut soup.
6) Roasted celeriac, beets, potatoes, and garlic (roasted with other root veg was a common reply!),
7) Use with other veg when making veggie broth.
8) Pear and celeriac soup.
9) Spiralized celeriac in a slaw or noodle dish (as noodles).
10) Celeriac fries, with a little seasoning.